Let's Talk About Race (Series) – What Color Crayons are in Your Coloring Box?
(This post was one of my first in a series dealing with the importance of talking about race and equity issues with young children. Click here to see the whole series.)
---
What Color Crayons are in Your Coloring Box?: Has your child ever gotten a gift you wanted to immediately throw away?
When my daughters entered their second year of preschool, they were unexpectedly gifted with a wondrous book about Barbie. I wanted to support my girls budding social identities and celebrate this surprise gift. Nonetheless, when it came to reading it I found I could not continue. The book contained an intolerable story about two ridiculously busty, young, small-waisted princesses who end up being "saved" by twin identical princes with identical twin puppies after defeating the old, evil, ugly queen to live happily-ever-after with rainbows and unicorns forever (gag!) The characters were drawn like cheap porn stars and the plot was just as paltry.
Nonetheless, I had never NOT read a book that my girls were interested in, and when questioned, I struggled to define in age-appropriate ways, the reasons I had to banish this book. (I couldn't exactly explain to my 4 year olds that the reason mommy hates Barbie is because she is a tool of our patriarchal capitalistic culture aimed at sexualizing and objectifying women to keep them oppressed… nope.)
After several failed attempts, I landed on a reason that started to make sense. This reason focused on the lack of diversity in Barbie culture, and went something like this:
"I don't like Barbie stories because they always center around one type of girl: usually blond and always white, who is tall and skinny with big breasts and long legs. We have friends who look all different ways: tall, short, skinny, round, black, asian, etc. In the Barbie stories, the focus is always on a blond, white main character and never on anyone who doesn't look like that. If there is a black character or an asian character, she/he is always in the background. And, everyone always has the same body shape. I don't like that, it's not fair."
This is stated more succinctly in the Thinking Girl blog: titled Reflections on Barbie
"…although Barbie now comes in all kinds of ethnicities and races, this was not the case years ago, and those aren't really Barbie, are they, those dolls are named something else. So only blonde white dolls can be Barbie."
What Color Crayons are in Your Coloring Box?: So, what is a conscientious mother to do?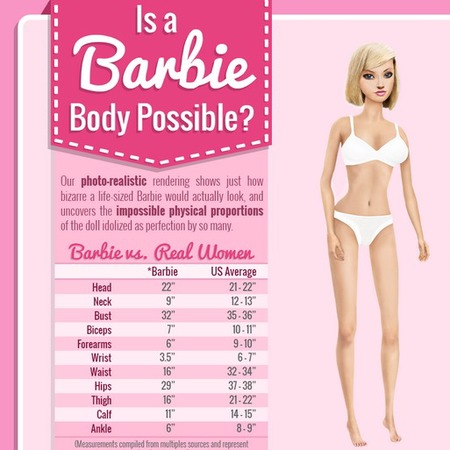 My explanation seemed to make sense to my girls, and my outright boycott of Barbie kept her out of our home. Nonetheless, it didn't get me out of arguing with my daughters about why I didn't like them playing with Barbies at playdates, or reading Barbie books at the library. I knew I needed to do something proactive, or positive, to foster a meaningful conversation about and healthy appreciation of diverse skin tones, facial features and body types.
On the Internet, I found many great resources for talking about body image and the media, which is a great conversation for upper elementary aged girls. For example: I found some cool information about the "if Barbie were a real woman" here, (see picture right.) Nonetheless, 4-year-olds are not really mature enough to appreciate abstract concepts like media, capitalism and self-esteem, so instead, I chose to focus our discussions of cultural and racial diversity by talking about the beauty and diversity of skin tone.
What Color Crayons are in Your Coloring Box?: It's time to redefine "flesh tone"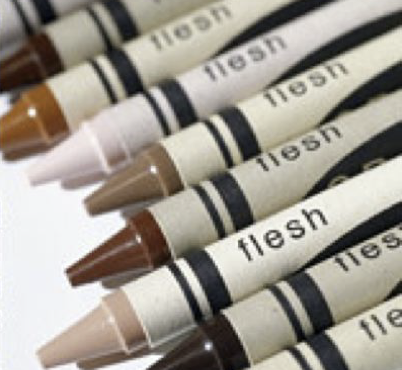 The simple act of talking about skin color, may seem superficial. Nonetheless, it can be an important first step in talking about race with very young children and is surprisingly absent from many (White) parents' conversations with their kids.
This excerpt from Motherlode: Adventures in Parenting (a blog on the NY Times website) by KJ Dell Antonia explains it well:
"Many white parents are uncomfortable talking with their children directly about race. A 2007 study in the Journal of Marriage and Family found that nonwhite parents are about three times more likely to discuss race than white parents. Our hope, often unspoken, is that not mentioning it will show our children that it doesn't matter.

But research suggests the opposite: that when we don't talk about race, our children continue to think about it — and what they think is that it matters too much to talk about. Po Bronson and Ashley Merryman wrote about this gap between what parents think we're teaching, and what children are learning, in their "NurtureShock" column for Newsweek in 2009. It's the children whose parents do directly address race — and directly means far more than vaguely declaring everyone to be equal — who are less likely to make assumptions about people based on the color of our skin."
I went out and bought my daughters "multicultural" crayons, colored pencils and paints. We read books celebrating various skin tones and painted princesses (I know, I tried getting them to draw superheroes but the Princess Industrial Complex won out in the first few rounds… so I went with it and decided to subvert princess culture in other ways… For more on this read Cinderella Ate My Daughter – Dispatches From the Front Lines of the New Girlie-Girl Culture by Peggy Orenstein.)
What Color Crayons are in Your Coloring Box?: So… How did it all work out?
I'd have to say… PRETTY DARN WELL, thank you! When we went to our first visit of Disneyland my girls were excited to see the princesses, and they were also a bit concerned. "What if they don't speak our language?" they said. I loved that they didn't just assume Mulan, Jasmine, or even Sleeping Beauty for that matter "spoke American". (Come to think of it, Belle is French!) They also began noticing that in the bookstore some of the Disney princesses were excluded and they were the usually ones of color. (wow!) And their own drawings and stories have always included heroines with a multitude of hair types and skin colors, (always fabulously dressed, of course!)
For more ideas on promoting racial and cultural diversity with your children/students, check out the links below (the last two are written for educators, but could serve as a great springboard for parents as well):
Read my Recommended Books List to get the conversation started – This list is appropriate for young children, grades PreK through grade 3.
A Box of Crayons – A lesson plan (appropriate for pre-school and Kindergarten aged children)  using crayons to talk about the benefits of diversity
Activities that Promote Racial and Cultural Awareness – Lists activities that can be done at various ages/stages of development grades K-3
"What Color Crayons are in Your Coloring Box?"
If you are an educator:
Beyond Flesh Colored Crayons: The Four Components of Culturally Responsive Pedagogy – This is a great article by a parent/educator which challenges educators to go beyond just acknowledging diversity and moving into true culturally-relevant teaching.
Teaching Tolerance – This organization, a project of the Southern Poverty Law Center is jam-packed with articles and resources for teachers wishing to address racial and social justice.
How do you talk about race in age-appropriate ways?
"What Color Crayons are in Your Coloring Box?" Related Reads: