"Most Requested" or Most White?
School tour season is in the air and I've been helping prospective families tour my daughters' school. All these tours has got me thinking about the enrollment process… But before I get going, Friday, January 12, 2018 is the last day to register for SFUSD schools. (Unless your child is applying to Ruth Asawa School of the Arts, or Lowell High School, in which case your deadlines are Wednesday, December 13 and 15th, respectively. 
---
Musings on SFUSD's Assignment System
From playgrounds and playgroups to parent listserves, if you're a parent of a child ages 3-5 years old, you are familiar with one of San Francisco's favorite past-times– bashing SFUSD's School Assignment System.
When applying to SFUSD schools, parents can chose from any of the roughly 70 schools in our district and with this choice comes stress. From researching all the options: start times, language programs, school demographics, and enrichment programs, the process can be more than a little overwhelming. And if you've made the investment to visit all the potential elementary schools on your list, school tours can feel like a part-time job. AND if you wait till the last minute to turn in your paperwork, standing in line at the Enrollment Placement Center (EPC) is no barrel of laughs, maybe a barrel of monkeys if you have a screaming toddler and wiggly Pre-K child in tow.
For these and other reasons the school enrollment process is regularly labeled as stressful, confusing, and even "byzantine". (Yes, this SAT word has actually been used many times, in print, to describe our enrollment system… though I think it's a tad melodramatic, no?)
If you aren't a parent, you may think I'm exaggerating. As proof, I offer an example straight out of the SF Chronicle which typifies the narrative around the SFUSD School Assignment System:
"Certainly, the numbers are incontestable. Nearly one-third of white, school-age students in San Francisco have opted out and are attending private school. Families routinely cite the byzantine school assignment system as a reason to leave the city and live somewhere where choosing a kindergarten isn't a full-time job."
What? White families are fleeing the public education system to go to private schools because of the sign-up process? Dear God…. NOOOOOOOOO!
Some context: The above quote comes from SF Chronicle writer C.W. Nevius, a long-time columnist notorious for his rants against tents for the homeless, rights for the mentally ill, and public nudity. (Duuude! What would San Francisco be without the random sighting of a nude guy wearing only huaraches and a fedora?)
Let's look at the numbers
All kidding aside, Mr. Neivus' claims are widely parroted by prospective parents throughout the city. And if you are of childbearing age and attend open-houses, cocktail parties or heck, you breathe, you can attest to the fact that these narratives dominate discussions about SF's public schools.
So let's examine, shall we?
First off, the fact that Neivus centers his perspective around the needs of White families only is very interesting. Most folks agree, all our kids, including white ones, do better in ethnically and culturally diverse schools. Nonetheless, using "whiteness" as a measure of school desirability is undoubtedly troubling.
Now, let's get to the meat of the matter. Neivus says "the numbers" don't lie. Maybe not, but they don't exactly prove Mr. Nevius' assertions. According to a recent SFUSD enrollment report, of all the families applying to kindergarten during the 2015-2016 school year, 87% of them were offered enrollment at one of the schools on their list, while 60% received their first choice!
: /  That doesn't seem too bad, does it? I guess it depends on where you land in this whole lottery thing, right? You're either happy or you're not. If you're one of the 13% that didn't get into one of the schools on your list, it shouldn't matter that 87% of all the other families got what they wanted, correct? In fact, hearing all your friends talk about how happy they are they got the "perfect" school might make you feel worse, or does it?
Due to this horrible (?) success rate, Neivus states, one third of all white families opt out of the public system altogether. And, some of them are even forced to apply to private schools (which are apparently much easier to get into) or, dare I say… move to the suburbs!
But seriously, let's look at the facts.
Contrary to Neivus' claims, Data from the San Francisco Department of Public Health, shows despite changes in the SFUSD enrollment system in 2011, enrollment for White students in SF has remained fairly static for the last 40+ years. In fact, based on the chart below, while the number of white students has declined in our city, the proportion of white public schools students in relation to the overall white student population has actually gone up. Specifically, in 1980, one third of white children attended SF public schools, whereas in 1990 this ratio grew to just under a half.
"Was white enrollment always so low?" you might ask. "What was enrollment like before 1980?" Looking at other data, you can see white enrollment fell dramatically in the 1970's and has remained fairly stable ever since.
So, if recent tweaks to our school assignment didn't cause these drastic changes, what did? What happened in the 1970's to cause the great exodus of White students from our public schools?
Can you say bussing?
In 1971, after an African-American family filed a lawsuit against San Francisco Unified's racially segregated system, the district engaged in a court-ordered desegregation plan based on 'bussing' African American, Latino and Asian students into formerly white schools and vice-versa.  When the plan was first implemented, a full 41% of the White families boycotted. Two years later, SFUSD had lost a third of its White public school students.
In the video below, three San Francisco principals share their thoughts on White Flight and racially isolated schools.
Listening to former San Francisco principal Mark Sanchez (in the video), you may be surprised to hear that most Cleveland families din't actively engage in the "choice" process of going on school tours, researching lottery odds, or attending school enrollment fairs. They just signed up for their neighborhood school and were happy.
This was my experience as well. Though I went to more than enough school tours, I ultimately chose schools that were under the radar. I got my first choice school, and just like that, my girls were enrolled in kindergarten.
So that leads me back to the families who didn't get ANY of their choices. With roughly 70 schools to choose from, it makes me wonder. Which schools were the "Unlucky 13%" choosing?
Looking at this enrollment report, the odds do seem dauanting… that is, only if you are interested in the most requested schools. Based on SFUSD enrollment reports for the current 2015-2016 school year, you can see that a child hoping for a coveted spot at Clarendon ES, would be competing with 97 other students!  Comparatively, Harvard has an acceptance rate of 1 to every 17 applicants, not 1 in 97.
"Most Requested" or Most White?
So how does this relate to White Flight? Well according to a report from Priceonomics, most of San Francisco's White students are in a small percentage of elementary schools. Here's what the report concluded:
Half of San Francisco's elementary schools have a student population that is 13% white or less. A few elementary schools are over 50% white, while a quarter of elementary schools are under 3.3%.
Pull out your reading glasses. Here's how it breaks down by school. (Legend:  White Students, Latino Students, Black Students, Asian Students, and Decline to State.)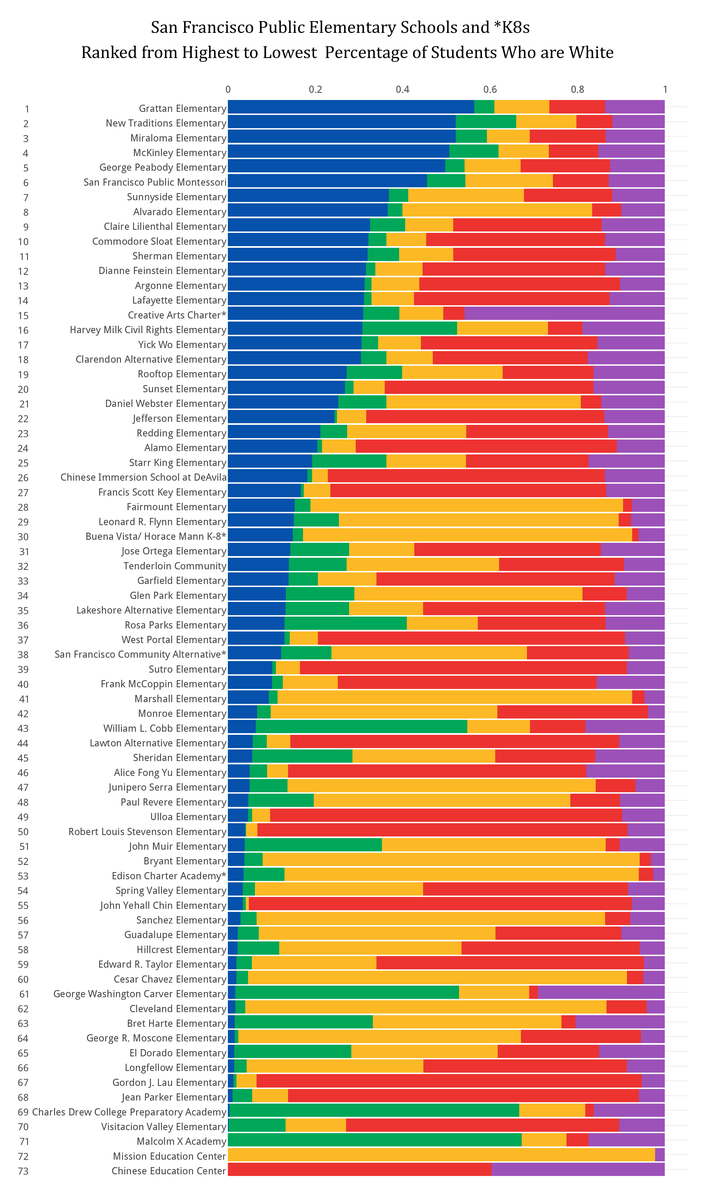 Looking over the list of "whitest" schools, you will see many of the same names on the "most requested schools" list. If you separated out affluent Asian-American students vs. their lower-income newcomer peers, it looks even more similar to the "most requested" list. For example, #20 Sunset Elementary (a "most requested" school) had roughly 46% Asian and 27% White students in the 2013-2014 school year. Nonetheless, only 33% of students were low-income, and only 23% were English Language learners.
So… let's go BACK to the SFUSD's original enrollment numbers again, shall we? Based on this more recent chart below, showing the percentage of White students in our public schools, roughly 28% of San Francisco's population is White, yet only 13% go to public schools.
Based on my experience and the experience of many school principals like, Mark Sanchez, at racially isolated schools, many Black, Brown and new-immigrant Asian families do not even participate in the "choice" process and are happy with their enrollment experience. So now, I'm beginning to wonder…
Is the narrative about a broken lottery and byzantine enrollment system the REAL reason for White Flight (and many of our segregated schools)? Or is this a problem of too many white (and other affluent) families requesting the same list of schools?
Want to know more about school choice and it's impact on school segregation? Read these great articles below:
What do you think? Does any of this resonate with you?
Related reads: