Celebrate Characters and Authors of Color
FREE Educational Events for SF Students and Teachers!
Amazing educators!!! I'm sharing these FREE educational opportunities for students and teachers. If you know of others, please email me or post in the comments. Let's share opportunities with colleagues, diversify our reading lists and expose students to great authors of color!!!
Aaaaand… if you are not already tweeting, now is the time to start! Following your favorite #YLit (that's youth lit!) authors. Have conversations with fellow educators and get great book list recommendations by following hashtags like #EduColor #SoJustBooks #SoJustEdu, #WeNeedDiverseBooks and #OwnVoices (Learn more about this important hashtag here and here.)
---
FREE Student and Teacher Performances with the African American Shakespeare Company

Taking students to FREE student matinees is a great way to "diversify" and celebrate Black culture without much pre-planning. I recently spoke to Sherri Young at the African-American Shakespeare Company who says they still have seats available for both dates. Act FAST! Seats will go quickly!
Thursday, September 14, 2017 at 10am, or (as of 9/8 there are 75 seats)
Thursday, September 21, 2017 at 10am ( as if 9/8 there are 100 seats)
Click this link to reserve seats or call 415-762-2071 Ext. 6!
Leave the students behind and come with us to unwind! You and your colleagues are invited to attend a special complimentary Teacher's Night Out event previewing our shows. This event is for school teachers, educators, and administrators who work or serve in public, charter, or private schools only and they must register their attendance on our website to receive their complimentary ticket to a Teacher's Night Out event."
A Midsummer Night's Dream – Friday September, 16th at 8pm
Click this link to see dates for future FREE Teacher Night Outs for upcoming performances such as Cinderella (You haven't seen it this good!), A Streetcar Named Desire, and Richard III.
FREE Lecture and Book Signing with Gary Soto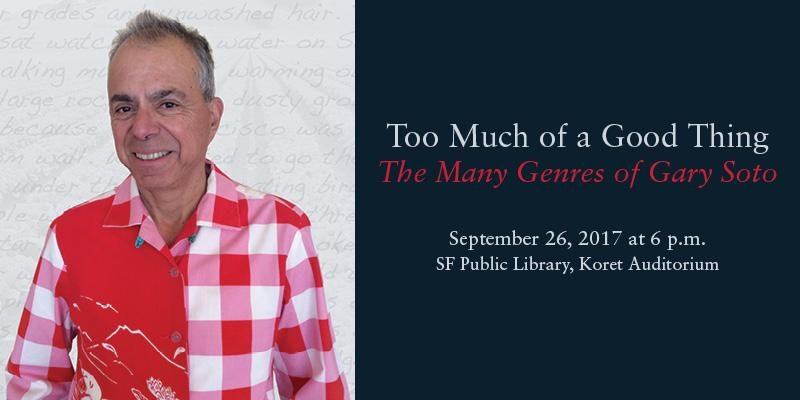 Get your favorite copy of Gary Soto and head on down to the SFPL Main Library for this amazing opportunity to see him speak (and get him to sign a book!)
"Winner of an Academy of American Poets Award and other honors, Gary Soto was born and raised in Fresno. His numerous books of fiction, short stories, and poems for children, teens, and adults include Baseball in April and Other Stories, Taking Sides, and Too Many Tamales. His lecture will range over the major themes of his multifaceted body of work.
Tuesday, September 26, 2017, at 6 pm @ Main Library's Koret Auditorium, 100 Larkin Street, SF
For more information, call 415-557-4554. Click here to reserve your seat.
Do you know of some amazing events for educators? Please share in the comments below.
If you found this post informative, can you please share it? Thank you!