Feminism NOT!: If This is the "New Feminism" Count Me Out!
I couldn't help it… I got into a Twitter discussion about the new Nicki Minaj album cover. Apparently Minaj's new album cover has generated quite a bit of controversy. (Seriously? Putting a picture of your bare a$$ squatting on an album cover is considered controversial? *sarcasm*)
Minaj took to Instagram to defend her choice of an album cover (and promote it) by posting it with the words UNACCEPTABLE. Then she posted more pictures of white women prominently displaying their "assets" as well, with the words "Angelic. Acceptable. Lol."
Apparently, Nicki felt the uproar over her album art was biased. Others agreed, and arguments raged on Twitter and Instagram back about the fairness of criticizing her for showcasing her decidedly black derriere on her album cover, while at the same time celebrating the multitude of white booties on magazine covers across America.
I daresay Minaj is doing quite well for herself and is in no need for our sympathy; if she is upset, she can surely relieve her woes by considering the renewed visibility she is receiving on Instagram and Twitter. This visibility, will surely pay off with heightened sales of her new album.
That said, I agree that a great deal of the brouhaha is a result of our culture's distaste for images of women's bodies that do not conform to European beauty ideals (aka: those of black women.) And the fact that Minaj is promoting HERSELF this way, presents consumers with the premise that unlike models appearing in Sports Illustrated magazine, SHE is the one in charge of her own image.
So, is she a FEMINIST Icon? Some say, yes.
Seriously? … Is this what we've come to?
Apparently others agree with me…
I'm glad that the word "feminist" is not the dirty word it was when I was in my early 20's. During the 90's, many thought the word was synonymous with "man-hater" and "woman with leg and armpit hair." Now, it seems young women are proud to claim the title, including big pop stars like Nicki and Beyonce.
But is this really a "new feminism"? Or just the same old same old. All I can think is, "Whose idea of feminism is this anyway? … Homer Simpson's?"
If I get the message mainstream media is trying to sell me about women's liberation, it's this: "As an empowered modern woman, I don't let men objectify me, I DO IT TO MYSELF!" And now, Nicki Minaj is fighting for her right to do the same as a woman of color! You go girl!
… so this is progress?
Actually, it's just more of the same. Every heard of Jezebel?
According to the Jim Crow Museum of Racist Memorabilia,
"The portrayal of black women as lascivious by nature is an enduring stereotype. The descriptive words associated with this stereotype are singular in their focus: seductive, alluring, worldly, beguiling, tempting, and lewd. … This depiction of black women is signified by the name Jezebel."
I hate to tell Beyonce this, but the fact that she is not wearing any clothes does NOT make her liberated.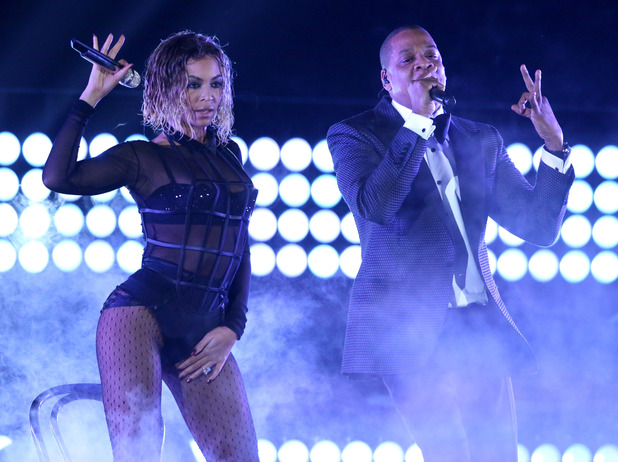 I've posted on this topic before, and I feel the need to say it again. Now, more than ever before, we need to talk to our daughters (and sons) and the messages the media is selling us.
Even if we don't understand social media, or youth culture today, it is important for parents to get involved in the conversations going on in pop culture. As a former high school teacher, I am well aware that as my girls get older, they will look for role models other than me. Where will they find them? On Facebook, Twitter, Instagram, or some other form of social media that hasn't been invented yet. Thus, it's important for me to understand the conversations going on so that I can talk with them now, while they are listening. I want them to have a critical mind and a strong understanding of their history herstory.
Who's are true black feminist icons? … Let's talk about Sojourner Truth, Alice Walker, bell hooks, Audre Lorde…. the list is too long to name here. (but try this list to start…)
… BTW: I don't think any one of them had to pose naked to get what they wanted. 🙂
Related reads: The Conversation We Need to Have with Our Kids…, Black History Month Series (2104): #1 Alice Walker: Beauty in Truth, Black History Month Series: #3 Alfre Woodard Gives Life to Sojourner Truth
What do you think? Who are your feminist/womanist heroes?