Best Picture Book Authors to Give this Holiday
It's gift giving season again and is officially the time of year that I GO CRAZY BUYING books for my girls, nieces and nephew and little cousins!
Buying books is one of the GREATEST gifts you can give, but if like me, if you have voracious readers, it can be hard to know what books to choose. I've compiled a list of my best picture ook authors to give this Holiday.
Here are a few of my favorite picture books for children Pre-K through 3rd Grade:
Magic School Bus (series) by Joanna Cole
Follow Ms. Frizzle and her class on their crazy "field trip" adventures and learn a ton about the natural world in the process. Topics include: the solar system, the human body, dinosaurs, marine ecosystems, volcanoes, etc.
Even though these are fiction books, they expose children to an extraordinary amount of academic vocabulary which will spark interest in learning about science. Younger children may need help reading some of the words, but lots of pictures help to make scientific content accessible.  Learn more about the author and see a short interview about how she started the series 
here
.
Best Picture Book Authors to Give this Holiday:
Fancy Nancy (series) by Jane O'Connor
I was originally put off by these books (given to me by a friend) because of the pink and girly cover. I have had many reservations about today's "princess culture" and didn't want to raise two little princesses of my own. Nonetheless, Nancy IS NOT a shrinking violet and is definitely NOT a passive heroine. Nancy is a strong, assertive, opinionated girl who just happens to like things fancy (despite her family's "plain" aesthetic.
What do I like about these books? Nancy is not afraid to be unique (in fact it never even occurs to her that not blending in might be seen as a negative by some folks.) Even better, Nancy's love of all things fancy, leads her to use language in a wonderful way, and will teach your child some great vocabulary in the process. For example: Nancy, doesn't get "angry", she is "infuriated", and when she does, she "sulks", "glares" to show it.
Best Picture Book Authors to Give this Holiday: 
I have go be honest, I have not read ALL of Elisa Kleven's books… we are still working on it! Nonetheless, the ones we have read are our favorites, and even as the girls have moved on to chapter books, I doubt we will ever hand them down. The one's we love?: Sun Bread (with a real recipe to make bread together), The Paper Princess, The Hunter and the Dancing Deer and The Wishing Ball.
All of Elisa Kleven's books are beautifully illustrated with the kinds of drawings you could stare at for days (so detailed and colorful!). More important, is the sweet and caring message woven into them about the power of friendship and love.
Best Picture Book Authors to Give this Holiday: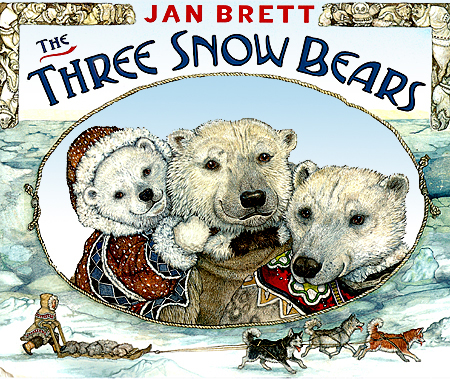 Speaking of illustrations…
Jan Bret
is one of the most AMAZING illustrators out there! Each page has detailed whimsical illustrations of animals wearing hats, mittens and boots. Look closer at the elaborate borders and see other sides of the story unfolding page by page.
My Christmas favorites include: The Night Before Christmas, The Three Snow Bears (an Inuit version of the popular folktale the Three Bears), and The Mitten. Also a favorite is The Owl and the Pussycat a detailed illustration of Edward Lear's charming (and romantic) poem about a cross-species romance!
Go to her
website
to learn more about his amazing author illustrator and see all her amazing books. Better yet,
download some free coloring pages too
!
Best Picture Book Authors to Give this Holiday:
And last… but definitely NOT LEAST is Mo Willems, who's charming illustrations and silly characters are laugh out loud funny! His popular series of books about an ornery pigeon is totally ridiculous (Don't Let the Pigeon Drive the Bus, Don't Let the Pigeon Stay Up Late, The Pigeon Wants a Puppy…). Nonetheless, you will root for the rude, sassy, irrational pigeon to the very end.
Mo Willems definitely understands humor, but even more important, he knows how to plumb the depths of childhood experience to name loss, fear and frustration that we forget as adults. Reading these books with your children opens up opportunities to talk about friendship, loss and hurt feelings in ways that really resonate with young children.
Our favorite Mo Willems books in this category include: Knuffle Bunny, which tells the gut-wrenching saga in words and pictures of what it feels like when you loose your favorite binky/toy. Also, Leonardo the Terrible Monster who is just that, terrible at being a monster. His description of the WORST DAY EVER will forever epitomize a worst day ever for a child.
Those are my Best Picture Book Authors to Give this Holiday. What are your favorite picture book authors? Please write them in the comments below.